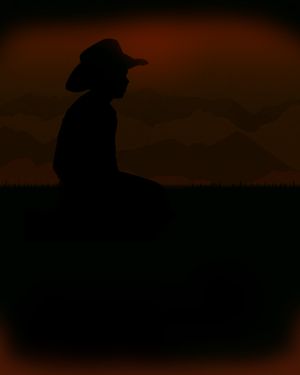 Bio
Mark L. Redmond developed an interest in the old West when he was still in elementary school. He also started reading when he was young.  Watching Saturday morning black-and-white television westerns increased his interest in cowboy life, and he read everything from western comic books to books by Zane Grey, Louis L'Amour, Max Brand, Elmer Kelton, and many others.  During his upper elementary years, he began to write short stories and poetry. By the time he started high school, Redmond knew he wanted to be an English teacher and a writer. 
While attending Tennessee Temple University in Chattanooga, Tennessee, he continued to write both prose and poetry. On January 1, 1978, Redmond moved with his wife Susi and two-year-old son Ben to South Bend, Indiana, to teach high school English at Grace Baptist Christian School. 
Later that year, Redmond's daughter Melody was born. He was passionate about teaching.  He spent his summers painting houses, working construction, and doing yard work. Whenever he could find the time, he wrote.  
His first paid work was an article about his wife's battle with rheumatoid arthritis. While still in her twenties, Susi was crippled by arthritis in all of her joints. Although she lived with constant pain, Redmond's article honored her for her positive attitude and her unwavering faith in God. The article was published in The Joyful Woman in December of 1990. 
Redmond had more than 25 short stories and articles for both children and adults published during the next 10 years. Because teaching his classes and caring for children and his nearly bedridden wife occupied most of his time, he wrote the majority of his stories on Saturday mornings while his family slept. 
On those Saturday mornings in the late '80's, Redmond had written Arty Goes West and sent it to a publisher. When it was returned with a blunt rejection letter, he did some editing and sent it to another publisher. Between mailing his manuscript and writing short stories, he read an average of 50 books each year and completed 2 writing courses from The Institute of Children's Literature. Rejections and revisions continued until he sent his manuscript to Sword of the Lord Publishing in Murfreesboro, Tennessee. Twenty-two-year-old Ben walked into his father's classroom in 1999, eleven years after Arty Goes West had been finished, and handed his father the author's copies of the book. 
Redmond wrote four more Arty books during the next few years. He had just started the final book, Arty's Tough Trail, when tragedy struck. In the early hours of Father's Day in 2005, Susi went to Heaven. Devastated, Redmond taught one more year and resigned in May of 2006. He had written nothing during that year, and he wrote nothing during the next year either. 
Redmond's father passed away in February of 2007. On Easter weekend, Redmond received a call from another Susie, who had been one of his students during his first two years of teaching. Her marriage had fallen apart because of an unfaithful husband, and Susie needed to talk to a friend. Redmond had made his intentions clear to his friends and family; he would never marry again. His interest when he made the one-hour drive to Susie's house was to console a hurting friend. Susie had decided that if God chose for her to live as a single mom, she would be content. 
They were married on September 22, 2007. Redmond finished the final Arty book in 2011. 
Three years later, he published Five for the Trail, a collection of short stories for older readers. For the next two years, a busy life, which included long workdays at his job, temporarily paused Redmond's writing. 
The winter of 2017 found Redmond taking another course and writing again. He and Susie made school visits and hosted a book table at other events although they continued to work long hours. More great stories were on their way.
Redmond had started writing a book for more mature readers when the parents of some of his students asked, "When are you going to write something for us?"
He finished and published Bounty Hunter Nate Landry: Major Issues in 2019. He and Susie lived in their motorhome and worked in resorts in Indiana and Arizona. They moved to Arizona in November of 2020 when Redmond developed some physical issues that prevented him from returning to work.
He published Bounty Hunter Nate Landry: Family Fury, the second book in his series, in 2021. Returning to the middle-grade age group, Redmond published The Box M Gang in 2022. It was the first book in a new series.
In October of 2023, he published the third book in the Nate Landry series, Bounty Hunter Nate Landry: Dust Devil. Redmond is currently working on the second book in The Box M Gang series.